Like superheros, harpists swoop down to save the day. We appear as if from nowhere, brandishing an instrument that has the power to alter mood and atmosphere. We look like your ordinary Clark Kent until we wield our harps and go out into the world to do good!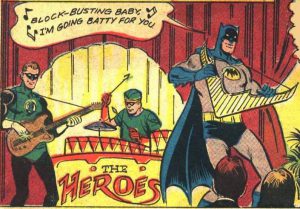 Harpists may be as rare as other superheros, those do-good angelic souls that that walk among us incognito. Perhaps this explains why bystanders often tell me, "I've never seen a harp before!" and "I've never met a harpist before!"
Most are stunned that such a wide variety of music—from "Stairway to Heaven" to "Fields of Gold", "Greensleeves" to "Danny Boy", and "When You Wish Upon a Star" to "Theme from Game of Thrones"—are possible on the harp, even on the Celtic harp. So, it should come as no surprise that with a bit of imagination, your  harp superhero adds magic in just about any situation.
When you use live harp music, you'll become a superhero in the eyes of your guests, students, and colleagues. My list of The Top 10 Ways to Use Live Harp Music appears below to spark ideas of how you can benefit from this  magic. This may be a top 10 list, but my list contains only 9 items. You get to add the 10th entry!
How would you use live harp music? Add a creative application that isn't included in the list below, and a free CD or album download of your choice is yours! I'll keep the comment section open for just two weeks, so you have a limited time to respond. Only G-rated suggestions, please 🙂
And now…drum roll please…The Top 10 Ways to Use Live Harp Music (in no particular order):
1. As a romantic surprise. The harp and romance go hand-in-hand. Does the harp attract the opposite sex? Of course it does.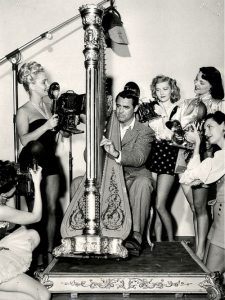 It's no secret that the harp is a well-known addition to weddings, so why not surprise the bride and have live harp music instead of a recording? Her heart will skip a beat when she discovers you've gifted her with the real thing as she walks down the aisle.
Want to ensure a "Yes" to your proposal of marriage? Feature your intended's favorite songs played the harp when you pop the question. Works every time. (I have a 100% track record.)
For just about anything you have up your sleeves, your sweetheart will melt into your arms when you include live harp music as a surprise. In fact, read the story of Bob, who asked me to play in his hotel room for his wife. She was floored by the experience.
2. To wow your guests. The harp fits into your creative vision.
The harp has a visual presence that no other instrument can claim. Seeing a harp up close and personal will be a first for many of your guests. Both children and adults often want to steal the chance to touch the strings. The harp is an enchanting addition.
Choose an unusual visual setting for the harp. The Celtic harp can go just about anywhere. I've played in a castle turret, in a tree house, and on many a yacht. I even played in the shower (water off) and inside an elevator on the weekend Good Morning Sacramento television show (watch videos to witness these crazy shenanigans). And enjoy this performance, along with the view, as I played on the Heavenly Resort Aerial Tram:
Request an appropriate costume for the performance, and the harp fits into the theme of your event: Elizabethan Renaissance dress, 1920s flapper dress, full-length gown, and more.
3. To make a grand impression. The harp adds a touch of class that you can't get with other instruments at black tie events, awards presentations, and luxury weddings.
Plan your first dance as a wedded couple twirling around the floor accompanied by the harp. Think classic waltzes, such as "Edelweiss" and Disney's "Up", and you'll create a happily-ever-after moment for your beloved and your guests.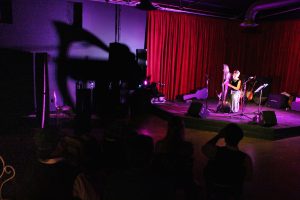 Place the harp on stage or under a spotlight so it will not be missed. Choose music selections  for your company's special event to please the CEO, the honorees, and your colleagues, and you'll get a pat on the back for your wise choice of entertainment. Perhaps you'll even be in line for a bonus check!
4. To add to holiday festivities. What St. Patrick's Day celebration is complete without a harp playing toe-tapping jigs? Or a Christmas party with tender renditions of your favorite carols, plus a bit of music from "How the Grinch Stole Christmas" and "A Charlie Brown Christmas" thrown in?
The harp is a special treat for birthday, anniversary, and graduation parties, too. Select everyone's favorite songs, and you'll spark a sing-along! At Lisa T's recent wedding, I played Neil Diamond's "Sweet Caroline" during the dinner reception, and the entire room sang along with the chorus!
5. To attract customers. Live harp music is a publicity dream come true.
Restaurant owners: Live harp music holds the key to filling tables. Your dining guests love watching the harp being played as they request their favorite songs. Your dining guests will love the fact that they can hold normal conversations without the need to raise their voices over the music.
Live harp music is not just for Mother's Day Brunch and Valentine's Day Dinner. Smart restaurant owners know that the harp adds a special ambiance and class to their establishments. Regularly scheduled music has a snowball effect, creating loyal, repeat customers that bring their friends to introduce them to your dining experience.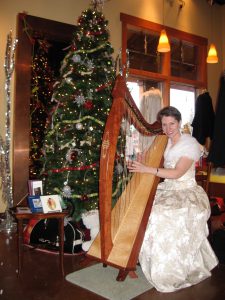 Retail shop owners: Harp music goes far beyond entertaining busy shoppers during Christmastime. Schedule live harp music regularly, and word will get around as it attracts customers to your store. They'll bring their friends, family, and kids to watch the harpist in action while they take advantage of your sales.
6. To close a sale. Harp music is the secret sales tool of the highest grossing sales professionals.
Real estate agents and brokers: When you're hosting an open house and want to move the property, the harp sets the tone better than the aroma of baked cookies. Serious buyers will be amazed that you took the extra step to make house-hunting a welcoming and relaxing experience.
7. To time travel. As an ancient instrument, live harp music gives you the opportunity to go back in history.
The folk harp dates back to early carvings on the walls in ancient Egypt and Mesopotamia in 3000 B.C., and first mention of the Celtic harp was in 541 B.C. in Ireland. The harps, and those who played them, went through a rocky history. Fast forward to the 1960s, when the music enjoyed a new resurgence, when traditional Irish and Scottish tunes no longer the sole repertoire for the harp.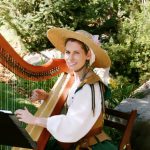 The history and the music associated with this instrument throughout the centuries is fascinating fodder for school assemblies. With the appropriate period costume, live harp music makes history come alive for all ages.
Telling the stories behind the ancient songs mesmerizes any audience, whether they are school-aged kids, families at museum concerts, intimate house concerts audiences, or raucous Renaissance Fair and Highland Games enthusiasts. The harp sells out tickets and fills seats to weave its enchantment on everyone within earshot.
8. To relax. Help your clients enter "the zone" and "chill out".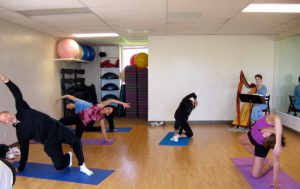 With just the right touch on the harp strings, live harp music enhances the experience for spa clients. Live harp music is the gateway to meditation—Better than recordings because the harpist varies the rhythm of the music to accompany yoga, Pilates, and meditation instructions.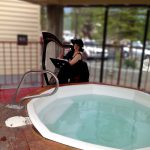 Live harp music attracts an atmosphere of calm in stressful locations, such as hospital waiting rooms, train stations, and airport terminals. Yes, live harp music. (Reno/Tahoe International Airport, are you reading this???)
Of course, harp music recordings are lovely when you need to sink into a tub after a long day's work…
9. For healing. This is real and not the stuff of woo-woo.
Research studies reveal that listening to live harp music improve the quality of hospitalized patients (according to this Mayo Clinic study), and heals the person playing the harp (according to studies by Dr. Ron Price at Northern Illinois University (DeKalb)
Music is said to be "the speech of the angels," according to Johann Wolfgang von Goethe. I've seen this with my own eyes. Amazing results are the norm in health care facilities that invest in live harp music for their patients.
As a harpist, I act as a conduit for the healing energy that comes forth from the instrument. Faces soften in the waiting rooms of doctors' offices. Those suffering from memory loss and the inability to speak, brought on by Alzheimer's disease and dementia, suddenly perk up in their chairs to clap, hum, and sing along. The serene tones of the harp soothe the atmosphere in hospital and hospice for both the caregivers and the ill.
The harp improves the person who plays it, too. Arthritis sufferers gradually find more pain-free movement, mild stroke victims regain more use of dormant fingers, and autistic children learn a new focus. No need to share studies here—I've seen these results for myself in my students.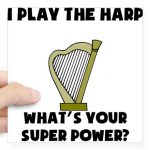 Is the harp is a difficult instrument to play? No! It's a beautiful, forgiving instrument that sounds gorgeous even when you play the wrong notes in a song. Start off learning on a little harp and then graduate to something bigger when you're ready. (The student harps that I rent out have only 29 strings, and they fit easily into the back seat of most cars.)
10.
What? No 10th item? You get to come up with this one! I can think of a few more items to add, but I'm stepping aside and letting you have at it.
Supply a creative way to use live harp music in the comments section below and receive your choice of a free CD or album download. I'm looking forward to reading your ideas.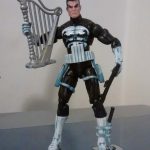 (Can't think of anything to add, but still want a CD? Sample and order them online, at Amazon, iTunes, CDBaby, or Facebook, or call 530-541-2575 to use a VISA, MC, or PayPal account to buy autographed copies.)