Some wedding music is timeless, and some goes out of fashion. Just look at the the way this decade started, in the….okay, I'll say it…the pandemic. Now, as we emerge from all of that social isolation and distancing, how have weddings and wedding music changed to reflect this new Renaissance?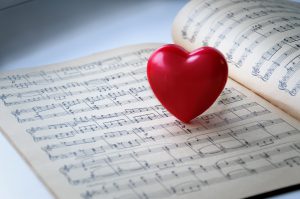 On the heels of receiving the Best Harpist of the Year 2022 Global Wedding Award from LUXlife Magazine, I took to updating my music playlists to consider a more holistic way of how harp music fits into today's ways to wed.

If you are planning a wedding, there's no time like the present to decide on your music, even if your wedding is months away, next year, or even in several years. Book your harpist now, and then have fun listening to music you want to choose for your wedding.
Read about the cool wedding trends for the 2020s below, and then look for your favorite categories of music on my lists to complete the picture.
Here are cool ideas for ways to wed in 2020s that are enhanced by harp music. Intimate little mini weddings never became uncool, but now, awesome wedding trends welcome an end to social distancing and isolating restrictions:
The Sequel Wedding. You got married during the pandemic, and now plan to walk down the aisle once again so that all your friends and family can witness you get married. This is more than a vow renewal—You're planning the big blowout wedding that you couldn't have during the pandemic.
The Anniversary Reception. You're finally planning to throw the reception you never had after your mini ceremony or elopement. And what sweeter way to celebrate than to host your reception a year after you tied the knot!
The Humanist Ceremony. You're planning a non-religious wedding ceremony that leaves out any spiritual references. It may be a non-denominational wedding, but you are individualizing your ceremony to include your own, newly created rituals.
The Hybrid Wedding. You'll have a mix of both in-person guests and virtual guests joing via livestream. Unlike a truly virtual wedding, all your service personnel are at your wedding site—The livestream is only for guests that cannot attend. Attending weddings by Zoom are still a thing for those that can't travel to see you.
New wedding fashions for the 2020s:
1. The Bohemian Wedding. You're creating a chic "hipster" look for your wedding with lots of macramé, oriental rugs, decorative pillows, and crystals to adorn your venue. The boho wedding look could also include spring bouquets as a pop of color against pampas grass and dried flowers. Get nostalgic with classic rock (yes, even played on the harp)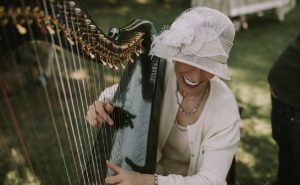 2. The Cottagecore Wedding. The look is romantic, vintage, candlelight at glorious gardens or estates. You've got the idea when you channel the looks (and the music) of Netflix's Bridgerton and PBS's Downton Abbey. With my extensive wardrobe of period costumes and gowns, I'll dress according to your theme and colors.
Looking over my shoulder as I play at a Modern/Industrial Wedding at the Whitney Peak Hotel, Reno, Nevada (photo credit: AmberShorePictures.com)

3. The Modern or Industrial Wedding. Marble and metallic textures complimented with stones, terrariums, and succulents create a simplified, understated look. Black and white with earth tones may be your colors as you take an empty space, such as a museum, loft, or warehouse with exposed bricks and wooden beams, is your canvas. How about heavy metal music on the harp?

4. The Sustainable Wedding. One of the biggest wedding trends today! You're planning an eco-friendly celebration, all the way down to choosing "green" wedding service providers that limit their carbon footprint by using recycled dining ware instead of single-use plastics. Reuse the flowers and décor from the wedding that just occurred hours before yours at your location, and share the harpist (that's me) with other couples getting married there the same day!
And live harp music is the classic 2020s accompaniment to weddings that never goes out of style:
1. The Religious Ceremony is typically held inside a house of worship, but may also migrate to the outdoors and to nonreligious locations. You simply choose your favorite traditions and forego others as long as your pastor, priest, or rabbi gives you their stamp of approval. Add a vocalist and make the music in your house of worship uniquely your own:
2. The Elopement does not necessarily mean that you are escaping friends and family to get married, not breathing a word about the affair to anyone. Elopements for the 2020s may not be the secretive escapes they used to be, and they may include a handful of guests as witnesses
3. The Destination Wedding may not always occur at an exotic location. Perhaps your guests and family are scattered across the country, and you're just selecting a central location for a wedding and reunion. Have harp, will travel—Me and my harp will meet you at your destination.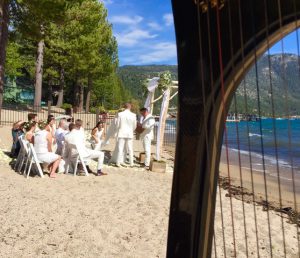 4. The DIY Wedding doesn't need to be something you're doing because you are on a shoestring budget—Maybe you can afford to hire professional wedding vendors but prefer to do it all yourself. Hugely popular in the 2020s, you're personalizing your wedding with creative origami wedding favors, personally crafted signature cocktails, handwritten signage, and other unique ideas to put an individual spin on your wedding. You're doing the same with your music. Who says you must walk down the aisle to "Here Comes the Bride"?
5. The Multi-Day Wedding Experience may be part of your culture, or you just want to have more time to spend with rarely seen loved ones or have a chance to get to know your fiance's family. The wedding ceremony may be followed by a brunch the next day, then perhaps other fun activities, like a yacht cruise, planned on subsequent days. Multi-day wedding experiences are often part of destination weddings, where all that attend have traveled from afar to spend a three-day vacation to celebrate with you.
Harp music fits anywhere! Whether you are getting married in your backyard, in a church, in your neighborhood park, or a secluded location where you and your fiancé first met, my harp music is perfect for the festivities. The music is created organically, right there! Unlike recordings, the way I perform your special songs is unique and will never be repeated again. How special is that?
Visit my music lists, discover the multitude of songs I can play for you, then contact me for a unique sonic harp experience at your wedding that will blow your socks off!
Love,
Anne