The Barbie™ sales distribution data downloaded slowly onto the company computer. I stared blankly at the never-ending rows of numbers appearing on the screen. This is how I began every day in my cubicle at Mattel Toy Company, logging in to view statistics upon arrival at my desk at 9 am, Monday through Friday.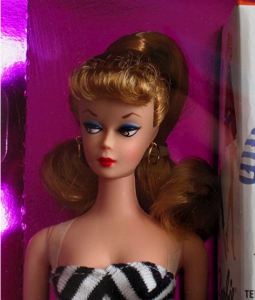 My position as sales distribution analyst involved reporting where Barbie dolls lagged in sales and then researching the source of the problem. Maybe Cincinnati stores received a shipment of dolls without legs. Maybe blizzards prevented delivery trucks to transport dolls to Chicago stores. Or maybe a particular store chain didn't bother to put the Barbies on their shelves.
Sounds like a snooze-fest, right? There I was, working at one of the foremost toy manufacturing companies in the U.S., and I wasn't having any fun! I operated on automatic: clocking in, looking at sales data, and clocking out, day in and day out.
Then one morning, I sat down at my desk, logged on, and as the data spilled onto my computer screen, I said to myself, "Who cares about this stuff? It's just Barbie dolls!!!"
I had an epiphany. It was time to get out of there and say my good-byes to Barbie, Ken, and the entire Mattel toy menagerie.
Did I hear a chorus of angels sing when I made my decision? Nope. But it was a kind of intuitive spark that entered my consciousness, a decision that was so certain that I could taste it.
Truth be told, I was also slacking at work. My performance stunk, because I was slogging through the mud of boredom. And so, I began on the path to finding a career that could hold my interest for the long haul.
Past jobs almost seem like past lives—I've lived through many of them. When it was time to exit, that voice of reason sings into my ear, "Who cares about this?" I knew I didn't, so it was time to move on.
My goal became clear: To find a career that meant something to ME. I found it in playing music. It continues to be fun, I don't grow tired of it, and I feel appreciated because people hire me to perform and buy my music. It's definitely not a thankless 9 to 5 job.
Many believe that music is a dumb career choice. Even comedian Louis C.K. believes that a music career is a "stupid thing to do for a living…making a noise that a computer can make." (At least he thinks music is a better career than dance). He branded the musicians in Conan O'Brien's late night show band "a clump of nothing." I'd be thrilled to have a cushy TV show band job, and I wouldn't consider it "stupid" in the least. What a dream…to have a regular, dependable music gig…
Take a look at the assortment of jobs that famous musicians held before they hit it big. Some of them worked at boring day jobs. Maybe they had their own job epiphanies, too. So, I feel I'm in good company.
What was my last day job before I turned to playing the Celtic harp as a career? Hint—A famous musician had the same day job that I had before becoming famous. Guess correctly, and one of my CDs or album downloads is yours! You must be specific to win.
Share your career epiphany stories below…