My adventures of taking my harp to unusual locations are fodder for a comedy routine. I take pride in living by the adage, "Have harp, will travel," even when getting to the location involves some creative logistics.
Take, for example, flying with a harp. How does a harpist get that big thing on a plane?
 You can't just walk on a plane with a harp, any size harp, and expect the flight crew to welcome you with open arms and a smooth drink for all your troubles. In my happiest dreams, I'd take a team of roadies with me and book a private jet where my harp and me could stretch out in luxurious comfort.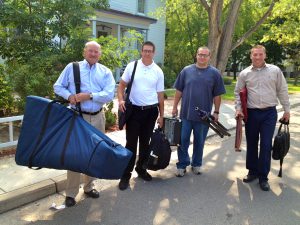 Here's the reality. Traveling by air with a harp takes a good sense of humor, a lot of patience, and the super hero ability to never need to visit a bathroom.
The first time I flew with my harp, a friend built a crate for it. I coughed up the oversized baggage fee and the baggage handlers took it from there. When I arrived at my destination, twang! My harp displayed its anger with me by breaking strings—Not a good thing during performances. After the return flight home, the harp struggled to keep its tune.
What goes on inside the underbelly baggage hold of a plane? I don't know, but it's not the place for my harp.
The next time I flew, I bought an extra seat for the instrument. I figured that if I had to pay for oversized baggage, I might as well pay for an extra ticket instead, and the instrument could sit comfortably next to me. Doesn't that make sense? It didn't to the airport personnel and flight crews…
As I walked through the airport, every person in a uniform instructed me, "You need to check that thing into baggage."
"I bought a seat for my harp," I explained, as I displayed my extra ticket in the name of "Harp Roos". They reluctantly let me pass with facial expressions of, "Really lady? You've got to be kidding."
At the security check-in, the TSA officers insisted that I place my more than 3-foot-wide instrument onto the conveyor belt. Can you imagine my harp magically fitting through that little tunnel of an x-ray machine? Well, it wouldn't, although they were eager to try to squeeze it through! I asked them to take the harp off to the side so that they could open up the outer case to examine it.
I often thought the sound box would make for a great storage space for extra protein bars and snacks for the trip, but I know it would flunk the inspection.
I placed my harp on my fold-up cart, rolled it to the gate, and entered the plane with the other pre-boarding passengers. This is the perfect way to send a flight crew into a tizzy: bring a harp on board. They didn't know what to do with my large, silent friend.
"Please bring me a seatbelt extension," I asked, and then I buckled my harp in for the flight. There it stood, like a lone sentinel above the other seated passengers, attached to the window seat.
My harp might have enjoyed the view, but it was doomed to be removed. The flight attendants told me and "Harp Roos" to leave the plane. This happened every time I flew (yes, on United). No reason given other than, "The captain needs you to exit the plane NOW." Did I take too long buckling in my harp for the journey? Or did someone else covet that window seat?
The airline personnel promised I would be allowed to board the next flight as I watched my original flight take off with my luggage. Then, the waiting began.
What's worst part of this experience? My harp cannot fit into a bathroom stall. I am not allowed to leave it with airport personnel, so my bladder must be still for a very, very, very long time. Of course, someone always sits next to me, trying to make me laugh and make light of my situation. It's not fair.
When I was finally in the air on the following flight, curious passengers urged me to play a tune. "It took way too long to attach it to the seat. My harp is sleeping now," I responded. And in case you are wondering, I never received an extra meal—Airlines don't serve food to inanimate objects.
After I arrived at my destination, I was left to solve the, "Where is my luggage?" mystery, since my baggage flew in on the earlier flight. My airport transportation came and went hours ago, so I sat with the harp again, saddled with the inability to visit a toilet until my transportation arrived to collect us.
My entire saga is true, and this happened to me prior to 911, repeatedly. Today, airport travel is ever so much more difficult, with or without musical instruments. Just watch Dave Carroll's experience, chronicled for all to see in this music video:
I wish I could attest that this was an unusual event, but when you talk to enough traveling musicians, you'll hear similar hair-raising stories.
The Musicians Union (The American Federation of Musicians, or the AFM), along with musician's rights societies (BMI and ASCAP) lobbied to enforce the rights of traveling musicians. Finally, in 2012, Congress passed a bill standardizing airline rules for musical instrument storage, and then the U.S. Department of Transportation issued their final rule regarding air travel with musical instruments. To make life easier for flying, musicians can refer to the AFM's handy "Guide to Flying with Musical Instruments".
For me, I'll skip it. If I'm not driving, I'll borrow or rent a harp at my final destination.
No more travel headaches with unhappy airport personnel and flight crews. No extra expenses for additional tickets, oversized baggage, and shipping crates. And blessedly, I can visit the bathroom whenever the need arises. My harp gets to rest, and I get to enjoy the experience of playing a different harp for performance.
When I don't need to perform, I don't travel with my harp. It doesn't join me on vacations.
I traveled last week, and my harp stayed at home. No worries of whether the harp will bake to oblivion in a hot car or be stolen out of my hotel room. I spent carefree, quality time napping on a secluded beach.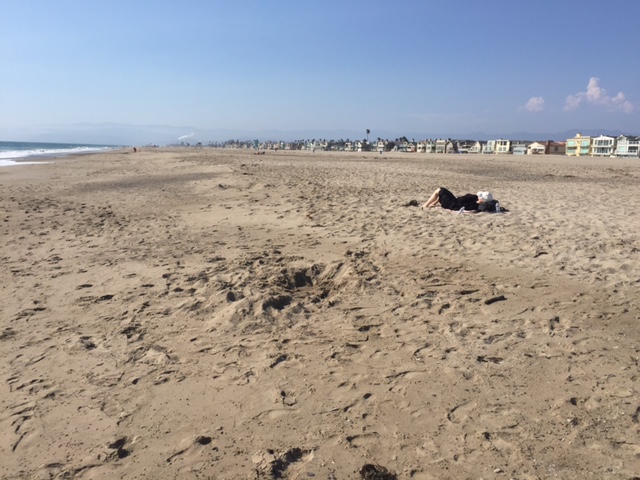 Check out the above photo and the photo at the top of this blog, name the beach in the comment section below, and a free harp album download or CD of your choice is yours! (Here's your hint: This beach is in California. Sorry, you can't cheat and look up the photo online—I don't post my private vacations on Facebook and Twitter feeds.)