I've heard that what makes for a good blog article is writing about the difficult. Okay, here goes: I'm scared. How can get around this feeling? Steady harp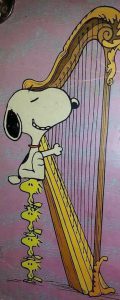 performance work at a regular gig at a restaurant, more wedding bookings,a huge financial windfall, and landing my dream job of performing in a talk show band would wipe away my panic. I firmly believe that when I reveal to the world my dreams that movement appears in the cosmos to make them happen.
Please, come forward to help me, or at the very least, send some good thoughts and prayers my way.

In the meantime, I could use a good laugh. I need the kind of humor that never gets stale, the silly and ridiculous, and only the humor that you could tell to someone of the age of 8 or 108 (not that they would necessarily understand what makes it funny). Just hysterically funny, G-rated, politically correct humor, please.
I compiled some of my favorites right here. Let's start with the images that my crazy friend, chiropractor Keith, sent me in an email. You don't need to be a dog person to appreciate these dogs at work. The photo of "that girl from the other department" is particularly entertaining. See if you can keep from laughing:
Many of my giggles ensue with the perfect wording of a meme. This musician meme recently circulated on Facebook: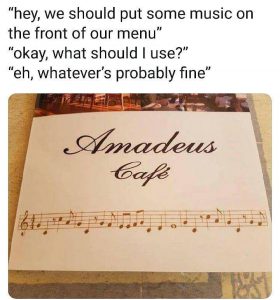 Can't read the music? It isn't Mozart! Here's a hint of the music melody: I assume the leading entrée on the menu is roasted mastodon.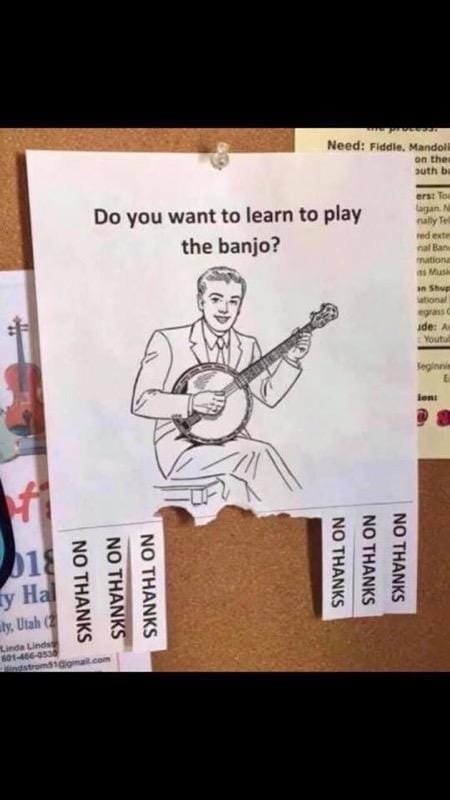 Here's one you'll understand. I apologize, in advance, to any banjo players I'm offending. They seem to be among the unappreciated in the music world, along with bagpipers and accordion players who are also the butt of many a joke:
The harp can be funny, too, but not often enough. I think the general public believes us harpists are all angels and too proper for side-splitting humor.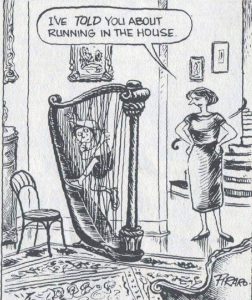 Here's a rare harp cartoon that would be even funnier if the poor kid was caught running with scissors: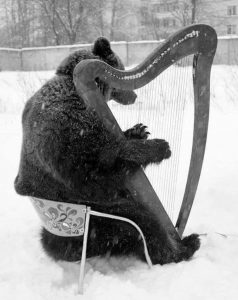 Even a strange-but-funny photo or meme works for me. This photo tickles me, because: A: Could that actually be a real bear, or is that someone in a great costume? and, B: Who would leave a harp out in the snow for a bear to play?

Please share a good laugh with me, and if you can help fulfill one of my dreams so that I'm no longer so desperate to ROTFL (roll on the floor laughing), even better. Post one absolutely hilarious, G-rated music joke here, and your gift is a free download of one of my albums. Please no off-color, politically incorrect, naughty humor. (If you have a comic meme to share from Facebook, post the link to that Facebook page where it lives—No unsavory links, please).
I deeply appreciate it when you buy my albums, too. Sample my music online at Amazon, Apple Music, and CDBaby. Fetch your autographed copies by calling 530-541-2575—VISA, MC, and PayPal payments happily accepted.
July 31, 2019 Update: The comment section is now closed. Here are a few last-minute cartoons that I received via email, because this WordPress blog allows only text, and not graphics, to be posted in the comment section. Enjoy!
More banjo silliness: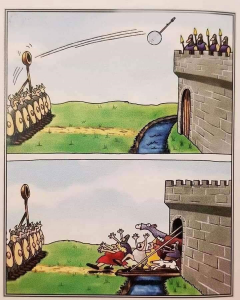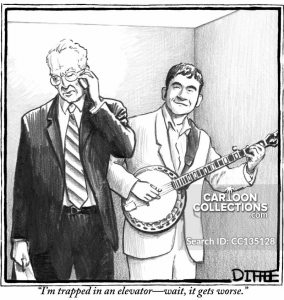 And music cartoons that don't poke fun at banjos and banjo players: